It was examined initially at the Atheneum, where a digital X-ray revealed an underpainting that looked like a self-portrait, which added to confidence about its authenticity.
Then the museum in Amsterdam analyzed the artwork's paint, materials and style to conclude it was indeed done by Van Gogh.
"One can say that slowly but surely, real progress is being made in Van Gogh studies. Some of these floaters even turned out to be firmly anchored in Van Gogh's oeuvre, and 'Vase with Poppies,' I am happy to say, is one of them,"  Louis van Tilborgh, a senior researcher at the Van Gogh Museum told the Hartford Courant.
The artwork fits stylistically with other floral paintings he made shortly after arriving in Paris.
"These studies have revealed just how much we still need to learn about Vincent and his growth as a painter, new to Paris and exploring new avenues for his art," Wadsworth CEO Thomas Loughman said.
The Atheneum now officially has two Van Goghs in its collection. The other is a self-portrait painted in 1887.
"Vase with Poppies" will go back on display in April.
Vincent Van Gogh loved painting flowers.
When he noticed his brother was feeling blue, Theo van Gogh suggested Vincent paint flowers to brighten his spirits. This dovetailed perfectly with his lean finances. Van Gogh couldn't afford to pay models, so he started to paint flowers. His paintings of sunflowers, lilacs, poppies and irises are now considered some of the most iconic floral paintings in history.
Although he is the poster boy for the tortured, misunderstood genius, van Gogh was immensely prolific. In just over a decade, he created about 2,100 artworks, including an estimated 860  oil painting, most of them in the last two years of his life.
Van Gogh's signature style — bold colors with dramatic, impulsive and expressive brush works — was inspired by the post-Impressionist movement.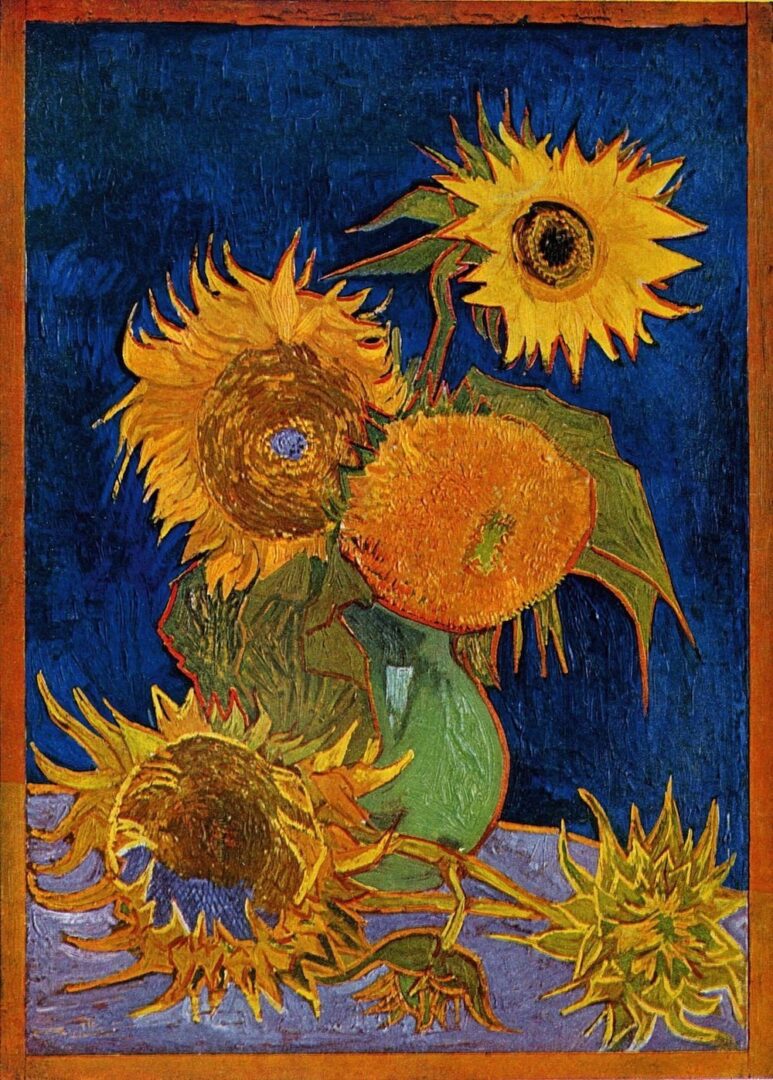 Van Gogh "Six Sunflowers," painted in 1888, in a private collection in Hiroshima, Japan, destroyed by fire after the bombing on August 6, 1945.
After Gauguin's departure, van Gogh imagined the two major versions of the sunflowers as wings of the Berceuse Triptych and included them in his Brussels exhibit. Although not sold during his lifetime, today the major pieces of this sunflower series are among his best known. 
This newest painting, "Vase with Poppies," will be appreciated not only for its flower power and seductive charms but for its hidden underpainting, a self-portrait. In the course of x-ray examination of the work, a ghostly image was discovered. It is what art experts call a "floater," and is not uncommon, since prolific artists reuse canvases.
The image here has been rotated and annotated to make the self-portrait clearer.
According to a story in Artnet,  "the discovery they made through a digital X-ray of the painting: a ghostly self-portrait in profile of Van Gogh … lent further confirmation to their findings" that the painting was authentic.
Among those artists influenced by his work, aside from Gauguin, were Matisse and more recently, the American artist Joan Mitchell.
As Van Gogh once explained, "I couldn't afford models so I painted flowers." Lucky for us.  – Jill Brooke